Asmeninis įvaizdis LinkedIn
Prisijunkite prie kurso ir išmokite susikurti asmeninį prekės ženklą, kuris leis paimti karjeros vairą į savo rankas.
Šis kursas skirtas visiems, kurie nori patobulinti savo asmeninius profilius.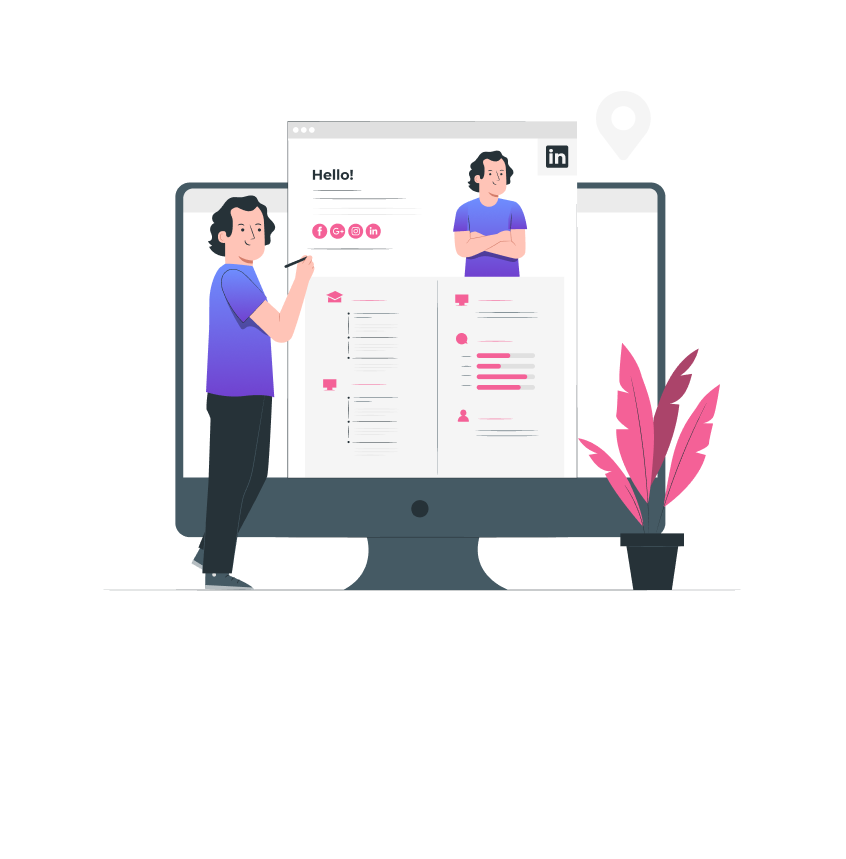 Trumpas kurso pristatymas
Šiame kurse rasite:
Vaizdo įrašus
Dokumentus
Testus
Sertifikatą
Kam skirtas šis kursas?
Tiems, kurie nori sukurti asmeninį prekės ženklą ir patikimumą LinkedIn platformoje. Pavyzdžiui, rinkodaros specialistams, konsultantams, verslų kūrėjams, dirbantiems savarankiškai ir kitiems.
Pagrindinės temos
Optimizuotos LinkedIn paskyros sukūrimas.
Turinio kūrimo strategijos.
Vertingų kontaktų užmezgimas.
Pagrindiniai skaičiai
LinkedIn platformoje yra daugiau nei 310 milijonų aktyvių profesionalų ir šis skaičius auga kiekvieną dieną.
Pagrindinis šio kurso tikslas
Šis kursas padės užmegzti vertingus profesinius ryšius ir išskirti save bei savo įmonę iš minios. O geriausia žinia ta, kad ilgainiui LinkedIn užmegztus ryšius galėsite perkelti ir į tikrą gyvenimą.
LinkedIn profilio optimizacija
Kaip reikėtų elgtis, norint išsiskirti iš minios? Prisiminti pirmojo įspūdžio taisyklę (ji galioja tiek realiame, tiek virtualiame gyvenime) ir optimizuoti savo paskyrą!
Labas, aš tavo instruktorė! 👋
Siunčiu virtualius pasisveikinimus apsilankius šiame puslapyje!

Kotryna Kurt yra LinkedIn konsultacijų/SaaS įmonės "Linkedist", padedančios įmonėms augti su LinkedIn rinkodaros, reklamos ir pardavimų galimybėmis, įkūrėja ir vadovė.


Ji aktyviai kuria turinį LinkedIn ir dalijasi įžvalgomis apie verslumą, lyderystę, pardavimus bei rinkodarą. Per pastaruosius septynerius metus Kotryna vedė daugiau nei 400-us seminarų įmonėms ir visuomenei bei padėjo įvairiems Europos akceleratoriams (pvz., Startup Wise Guys, Swiss EP, F10 ir kt.) ugdyti startuolius rinkodaros, pardavimų ir asmeninio prekės ženklo kūrimo klausimais.

Savo patirtimi ir žiniomis Kotryna nuolat dalijasi įvairiuose renginiuose, pavyzdžiui, "TechBBQ", "TechChill", "Login", "Growth Marketing Conference, San Francisco", "Sales Formula" ir dirba su tokiais prekių ženklais kaip "LEGO", "Accenture", "Danske Bank" ir kt.
Why people value Linkedist Courses Academy
Gabrielė Vilčinskaitė
Service Marketing & Communication Specialist at Danfoss Drives

"Personal Branding on LinkedIn" course gave me valuable insights into optimizing my LinkedIn profile, creating engaging content, and how-to recommendations for networking with high-quality professionals. Overall, the course was incredibly informative and practical, offering many actionable examples.
Deividas Matačiūnas
Technical Data Analyst at Sunrise

I highly recommend Linkedist's personal branding course to anyone looking to create a strong personal brand, especially technical people. After taking the course, my post impressions increased threefold and gave me the confidence and motivation to write
daily posts.
Rima Kasnauskytė
Founder of CiuCiu®

I am grateful for the new Linkedin knowledge I gained during Personal branding course. I have learned what all these lines in my profile mean, how to fill them, what content to create, where to look for content ideas that trigger my audience. Just one weekend with courses from LinkedIn pros, and I feel ready to dive into Linkedin with confidence and enthusiasm!
Leon Van Der Laan
Founder & Consultant at Remode
Linkedist Academy is the top resource
I recommend for learning anything LinkedIn-related. Practical and relatable.
Živilė Barkauskaitė
Brand Manager at Wargaming
I've learned new, in depth information, actual tools, hacks and strategies to reach better marketing related prospects via LinkedIn.
Ema Šumskytė
Employer Branding Specialist at NordPass & NordLocker
Even though I already knew a lot about personal branding, this course helped me to look at the same topics from a different perspective.
Margarita Perveneckienė
CMO at Merita Wellness

One of the best courses! A must for everyone who wants to develop the personal brand. I've got all answers to my questions, found out useful hacks and learned new things. Although there was quite much information, everything was very clear and simple to implement. I highly recommend this courses.
Join our newsletter!
Get monthly tips & tricks and LinkedIn updates right in your mailbox.
Created with