LinkedIn reklama
Šiame kurse jūs išmoksite kurti įtraukiantį turinį ir vykdyti bei optimizuoti reklamas per
LinkedIn "Campaign Manager".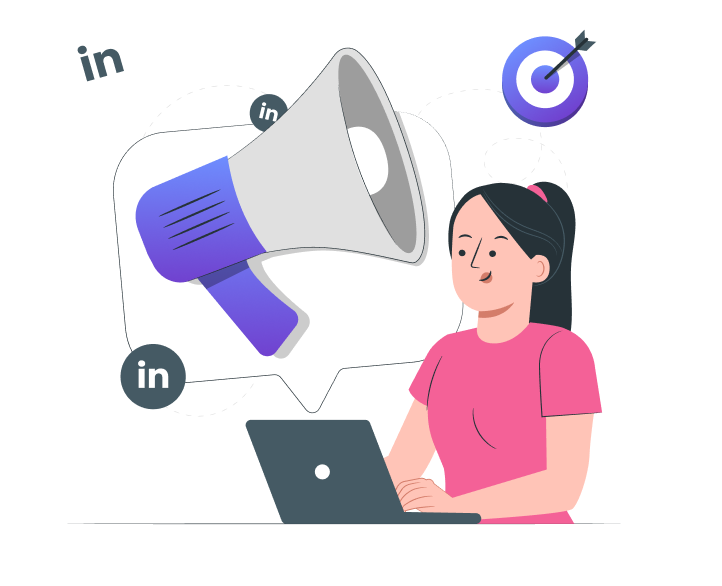 Trumpas kurso pristatymas
Šiame kurse rasite:
Vaizdo įrašus
Dokumentus
Testus
Sertifikatą
Kam skirtas šis kursas?
Tiems, kurie nori planuoti ir vykdyti mokamas kampanijas, kurios atneša rezultatų. Pavyzdžiui, rinkodaros specialistams, konsultantams, verslų kūrėjams, dirbantiems savarankiškai ir kitiems.
Pagrindinės temos
Campaign Manager
Vizualai bei tekstai
Geriausių praktikų pavyzdžiai
Kampanijos optimizavimas

Galimybės
LinkedIn platforma aktyviai naudojasi daugiau nei 310 milijonų specialistų ir šis skaičius kasdien auga.
Šio kurso tikslas
Siūlome kursą, kuriame supažindinsime su visais svarbiausiais LinkedIn reklamos auditorijos atrinkimo niunsais, kampanijos kūrimo, rezultatų stebėjimo ir optimizavimo aspektais.
LinkedIn reklama
Nesvarbu, ar jūsų tikslas – generuoti potencialius klientus, ar didinti prekės ženklo žinomumą, ar skatinti pardavimus, LinkedIn gali padėti pasiekti įvairias auditorijas su įvairiais skelbimų formatais ir targeting'u.
Labas, aš tavo instruktorė! 👋
Siunčiu virtualius pasisveikinimus apsilankius šiame puslapyje!
Tikiuosi, čia rasite jums naudingos informacijos.

Daugiau nei 6 metus dirbu LinkedIn rinkodaros, pardavimų ir reklamos srityse. Per šį laiką man teko konsultuoti daugiau nei 200 įmonių ir surengti daugiau nei 100 seminarų bei dalyvauti įvairiuose akceleratoriuose ir aukščiausio lygio vadovų susitikimuose. Darbingi ir be galo įdomūs metai!

Po daugybės valandų, praleistų mokant verslo atstovus ir pavienius asmenis, nusprendžiau pristatyti nuotolinius LinkedIn kursus ir taip visiems norintiems suteikti prieigą prie savo sukauptų žinių. Didžiausios sėkmės mokantis ir stiprinant savo LinkedIn įgūdžius!
Why people value Linkedist Courses Academy
Leon Van Der Laan
Founder & Consultant at Remode
Linkedist Academy is the top resource
I recommend for learning anything LinkedIn-related. Practical and relatable.
Živilė Barkauskaitė
Brand Manager at Wargaming
I've learned new, in depth information, actual tools, hacks and strategies to reach better marketing related prospects via LinkedIn.
Join our newsletter!
Get monthly tips & tricks and LinkedIn updates right in your mailbox.
Created with